Calling All Sneakerheads! Come One, Come All.
---
---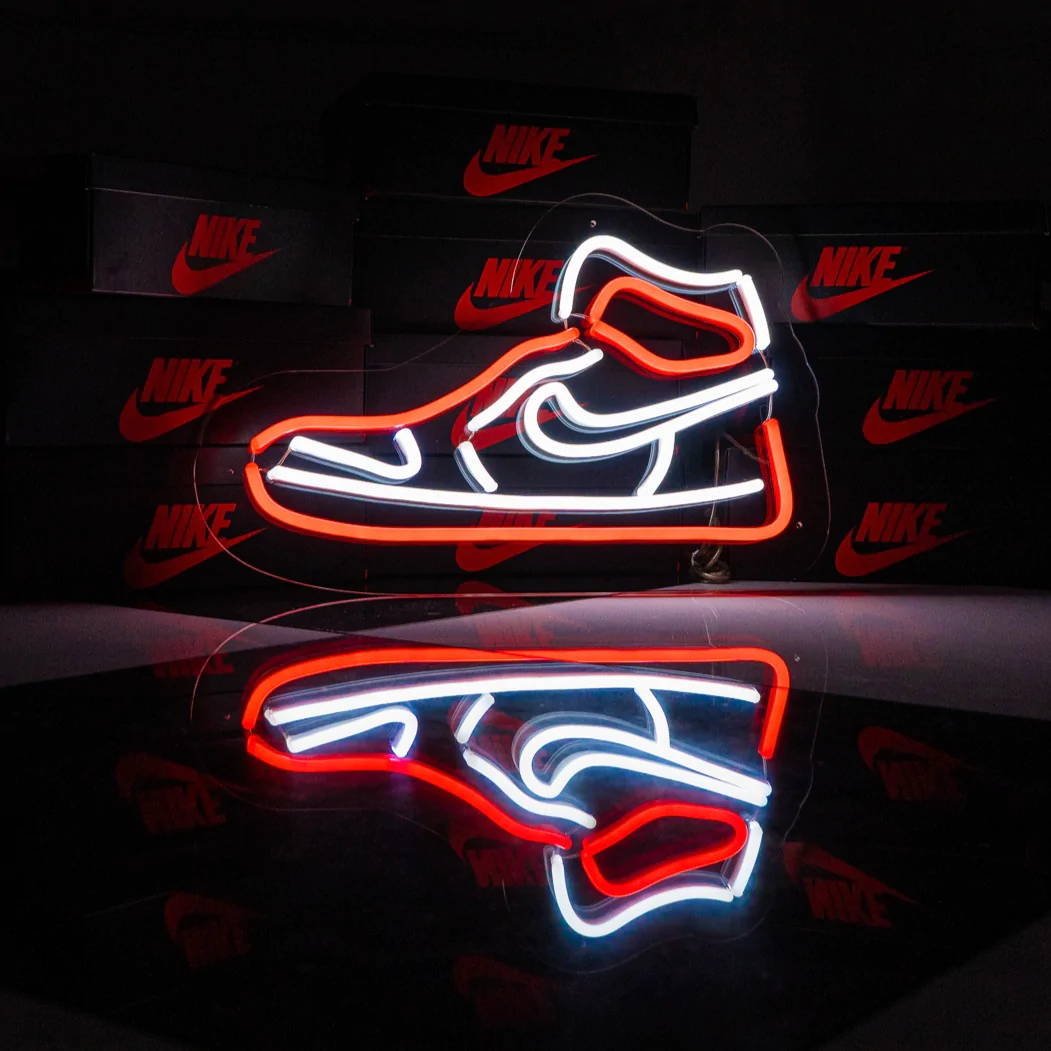 If collecting sneakers is an art, every real sneakerhead is an artist. As a sneakerhead, you know that being dedicated to your craft requires a certain level of expertise. And in order to become a successful artist, you need to be dedicated to your craft. Here at StreetLyte, we're bringing you everything you need to be the ultimate sneakerhead, in neon form of course!
So what exactly is a sneakerhead? A sneakerhead is a person who collects and trades sneakers as a hobby, and who typically is knowledgeable about the history of sneakers. They often have sick setups or sneaker walls to showcase their favorite sneakers and keep them in pristine condition.
Now you may be wondering, how does StreetLyte cater to sneakerheads? We just so happen to have a whole collection dedicated to them! From sneakers to hype brand logos, to statement pieces to accent your setup, StreetLyte has it all.
Whether you rock Nikes, Jordans, or Yeezys, we have signs that any sneakerhead could appreciate! StreetLyte has several of the most popular sneakers available in neon form. For example, our Nike Air Max Wotherspoon's, Inspired by the iconic Air Max 1/97 by Sean Wotherspoon. We also offer both the Retro and OG Air Jordans, inspired by the Air Jordan 1 Chicago colorways, brought to life through the power of our LED neon tubing. Big Kanye fan? Check out our Yeezy Boosts sign, a luxury Yeezy-inspired neon sign that will elevate the vibe in any room of a true sneakerhead's house.
Don't see your favorite sneakers in neon form? Fill out our custom form and upload any sneakers you desire in order to bring them to "light."
In addition to sneakers, we also feature some sick logos that will complement your kicks and show your love for the brands that make them. A fan favorite is our Just Relax neon sign, a fun play on the signature Nike logo that reminds us to take some "you time," and chill. We also offer the Jordan and Supreme logo, a favorite amongst the hypebeasts out there. Have another brand you want to showcase in neon? We have you covered. Simply upload the logo to our custom form and you will soon have the perfect way to showcase your dedication and love for your most loved brand.
Another key aspect of our sneakerhead collection is our accent pieces, perfect additions to any sneaker wall. They will mesh seamlessly with your other hype decor, while also providing an edgy, street vibe. A popular sign amongst our customers is our Smiley neon sign, a fun standout piece that is our unique StreetLyte spin on the iconic smiley face.
Check out the whole sneakerhead collection, here!